Valkommen till Croatia Divers - PADI IDC college Croatia
Croatia divers ar en erkand PADI 5* Instructor Development Dive Resort och PADI IDC College Croatia belaget vid havet i Vela Luka pa on Korcula, pa den vackra Kroatiska Dalmatian kusten.
For den kommande 2022 sasongen har vi oppet fran 30 April till den 15 October
We are happy to announce that we opened our doors

from

30 April o 15 October

You are most welcome to dive and to have fun with us!
General information
Your holiday is not just about diving but also the social environment, local events, the culture of a country, island live and the city is important when choosing the place where you wish to spend your holiday.

The diversity and richness of the cultural inheritance of Vela Luka can be seen in the exceptional museums and galleries that are located in the Center for Culture.
Visit after diving this extraordinary archaeological site Vela Spila. It's one of the most important prehistoric cave dwellings and the most significant archaeological sites in the entire Europe!
Vela Luka has, besides fantastic diving, a rich history of Klapa singing (in cappella style). One of the best known is the Klapa Ošjak.
There are numerous sea-view restaurants with home-made food and local brewed wines. You will experience the relaxed life style of the island habitats and you'll get spoiled by their welcoming warmth.

Come, dive, explore and have fun with us!
Var heltids personal inkluderar en EFR Instructor trainer, PADI Course Director, Staff Instructor och Master Scuba Diver Trainer Instructors i vart harliga dyk team!
Koppla av I vart stora rekreations omrade utomhus som vi gett namnet 'the Deco-Stop', uunder palmtraden med, utsikt over havet tra mobler och en hangmatta dar vara dykare, icke-dykare och PADI elever kan slappna av, lasa en dyk tidning, prata och/ eller surfa pa internet med vart tradlosa internet.

Certifierade dykare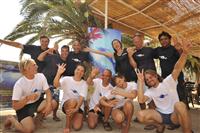 For kvalificerade dykare, har vi dyk dagsturer med bat vilket erbjuder nagot till dykare pa alla erfarenhets nivaer.
Med mer an 35 dykplatser,inclusive vagg dyk, vrak dyk, drift dyk, natt dyk och djup dyk, variation ar nagot som vi definitivt kan erbjuda. Hyllade undervattens fotografer (som Gerald Nowak, Rutger Geerling, Wolfgang Pölzer, Franco Banfi, Antonello Paone, Gianni Neto & Massimo Spadotto) har beskrivit Vela Lukas undervattens varld som en av de mest intressanta och komplexa marina miljoerna i hela Medelhavet, Egeiska havet och de Adriatiska havet.
Besok var special erbjudande sida och foto galleri med farg bilder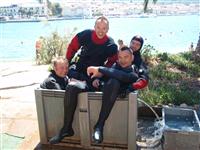 PADI kurser fran nyborjare till padi professionals
Vi erbjuder PADI kurser fran PADI Open Water diver for nyborjare, hela vagen till PADI Instructor, Dive master kurser & EFR Instructor for dom som vill gora karriar inom dykning. Vara instruktorer kan lara ut kurser I en stor variation av Europeiska sprak, bland annat hollandska, tyska, engelska, kroatiska, och franska.
Tryck har for att se pa vara PADI Open Water Diver kurser
Tryck har for att se pa vara PADI Advanced kurser
Tryck har for att se pa vara PADI Professional kurser och vart IDC program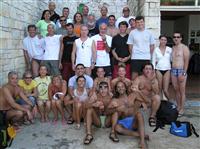 PADI Special kurser
Vi har special erbjudande for alla erfarenhets nivaer; nyborjare, kvalificerade dyk program och PADI professional dykare
Tryck har for att se vart PADI Nitrox dyk speciallitet, Equipment specialist och PADI DSAT gas blender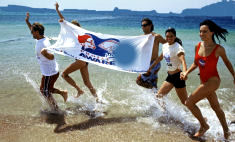 PADI kurs kombinationer
Vi erbjuder bra erbjudanden pa kombinations kurser till exempel bli en PADI Open Water Diver och en Nitrox dykare eller vad om din Master Scuba Diver och fullständiga 5 PADI Specialties. Du kan överväga PADI Rescue + EFR, CFC och Emergency O2 leverantören för bara €399 i 4 dagar!
Klicka här för våra kombinations erbjudanden
Klicka här för PADI E-stödd möjligheter för de kurser som du väljer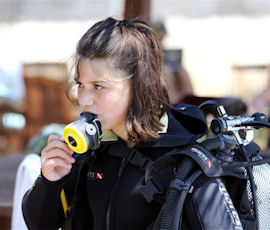 PADI junior dykare fran 8 till 15 ar
Bobby & Marjolein har mer an 19 ars erfarenhet inom ungdoms dykprogram och sakerhet ar regel nummer ett! Vara PADI instruktorer ar val trandade och erfarna med PADI ungdoms program vi erbjuder dina barn.
Vi kan forsakra dig om att dina barn kommer att ha en rolig och aventyrlig tid! Programmen ar mojliga nar foraldrarna dyker och beroende pa ditt dykpaket och dina barns kurs program, skulle ni kunna aka med samma dykbat!
Klicka här för PADI barn dykare programmen
For fullstandiga nyborjare
Vart testa pa dyk program ar en endags introduction till dykning, da en instructor tar dig
under de klar blaa havet sa attdu kan fa uppleva underverket att andas under vatten
for den forsta gangen och den fantastiska kanslan av att simma med fiskar!
Och om du tycker om det (vilket vi ar sakra pa att du kommer att gora), da erbjuder vi PADI Open Water kurser sa att du kan bli kvalifiserad som en PADI Open Water Diver och borja din upptackts resa.
Fotografiska och forsaljnings tjanster
Foto CD for kvalificerade dykare, kurser studenter och nyborjare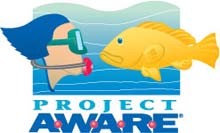 PROJECT A.W.A.R.E foundation - Our world, Our Water
Projektet AWARE foundation ar registrerat som en ideel organisationoch kombinerar forsok att bevara akvatiska resurser och undervattens miljoer genom utbildning, foresprakare och handling. Pa Croatia Divers organiserar vi varje manad en undervattens stad dag, vi behover din hjalp och engagemang... Hur?
Snart kan du besoka var Project AWARE sida for mer information om Project AWARE's historia, uppdrag och mal och hur du kan hjalpa de aquatiska livet.